We all want to know how to improve our health, energy levels and overall wellbeing. And sometimes it can feel like a bit of demanding and time consuming task.
Chili Cheese Nuggets
400

 

gram

 

processed cheese

3

 

jalapenos

3

 

eggs

1

 

tsp

 

black pepper powder

1/2

 

tsp

 

paprika

salt to taste

breadcrumbs

 

to coat

Oil

 

for deep frying
Remove the seeds from the chillies and finely chop them.

Stir in the chopped chillies with the melted cheese.

Line the bottom and sides of a plastic box with cling film and transfer the liquid cheese mixture into it, smooth the top. Chill it in the refrigerator for 3 hours to form a cheese block.

Now cut the cheese block into cubes of your desired size.

Beat eggs in a bowl along with salt, pepper, and paprika.

Dip cheese cubes in egg mixture and then coat with breadcrumbs. Repeat the process once more and chill in the refrigerator for 30-40 minutes.

Heat sufficient oil over medium-high heat and deep-fry the nuggets.

Transfer to a paper towel to absorb excess oil and serve hot.
You can shallow fry the nuggets and keep them refrigerated to bake or deep fry on a later date.
Raspberry Banana Smoothie Recipe
Ingredients:
1/2 cup Raspberries
1/2 fresh or frozen Banana, sliced
1/4 cup Plain Yogurt or Vanilla Yogurt
3/4 cup Almond Milk or Soy Milk or Normal Milk
1-2 teaspoons Sugar (or to taste)
DIRECTIONS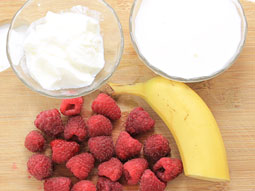 Choose the raspberries which are red and not mushy.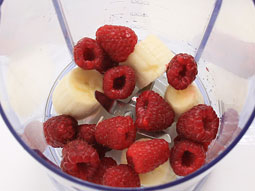 Add raspberries and banana in the a blender jar.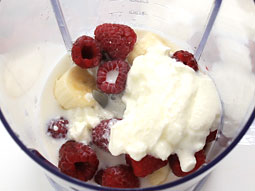 Pour almond milk over it and add plain yogurt and 1-teaspoon sugar.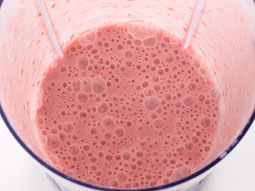 Blend until smooth texture. Pour it into chilled serving glasses. Creamy smoothie is ready to serve. For garnishing, spear sliced banana, and raspberries with a toothpick and place it over glass.
BENEFITS OF SMOOTHIES 
It gives you more energy fast and efficiently.
It reduces craving.
It helps to detox your body and boosts your brain.
Smoothies could fill up the daily needs of fruits and vegetables.
Smoothies help to build your bones and muscles.
Smoothies are a great way to lose your wait by adding into your diet.
Kids love smoothie, so it could be an excellent way to give them more vegetables and fruits.